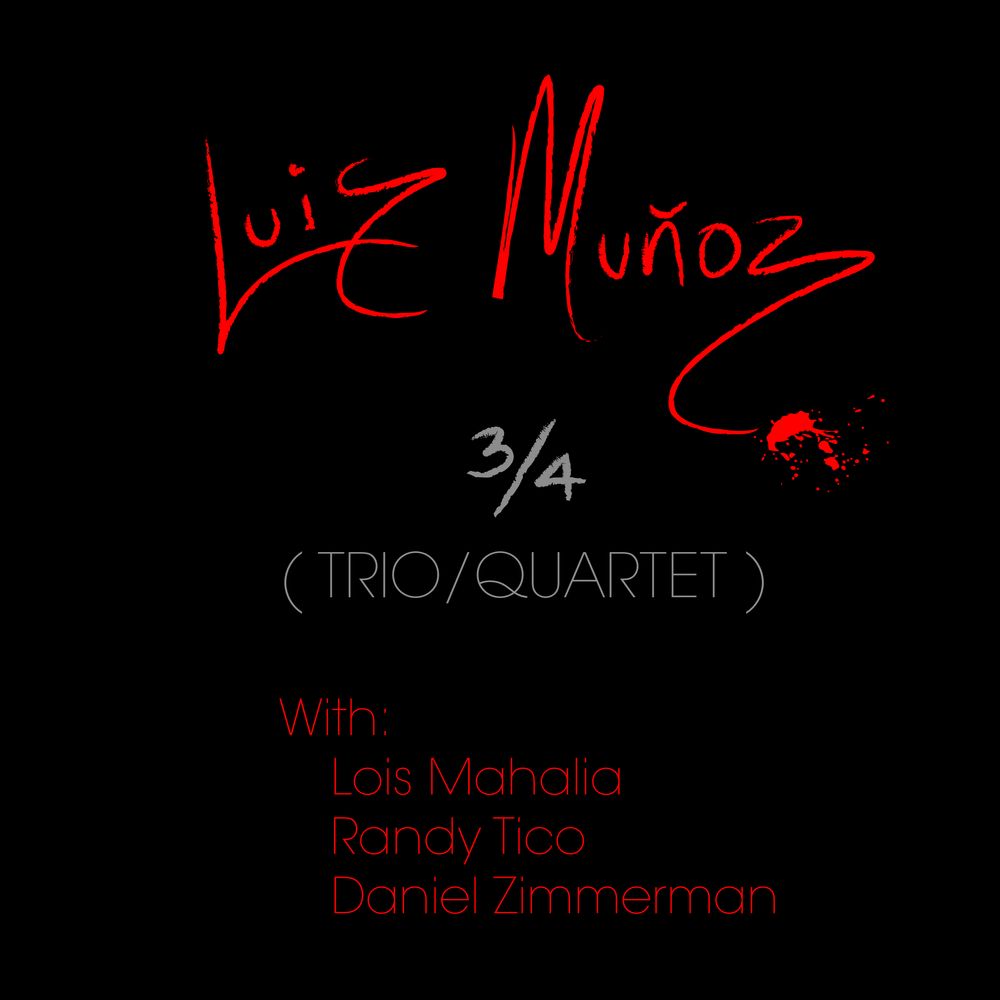 NEW LP RELEASE ON APRIL 18, 2024
RED VINYL-180 grams
I am very happy to announce the release of a new project, a collector's edition LP on red vinyl-180 grams, featuring Lois Mahalia on vocals, Randy Tico on bass and Daniel Zimmerman on guitar. 3/4 (Trio/Quartet) includes seven new compositions, and will be released on April 18, 2024. Please contact us (Luismunozmusic3@gmail.com) if interested on pre ordering your copy! Cheers!!
Buenos días queridos amigos y amigas. Comparto el video de una conversación que se llevó a cabo en el canal 15 UCR en Costa Rica el pasado lunes 16 de Mayo durante mi más reciente gira musical por el país. Charla con mi amigo y gran músico Guillermo Madriz para la televisión nacional. Que disfruten!!!! . Luis 
Good morning dear friends. This is a video of an interview that took place on Channel 15 UCR, in Costa Rica, during my recent tour, for national television. I talk with my dear friend Guillermo Madriz about past, present and future musical projects. Enjoy!
announcing: Luis muñoz quartet featuring lois mahalia /spring tour 2023     
Thursday May 4, 8:00 PM SOhO in Santa Barbara, CA
Saturday, May 6, 7:00 PM Ojai Underground Exchange in Ojai, CA
Friday May 12, 8:30 PM  El Nico Baker/ Sala Garbo in San José, Costa Rica
Saturday May 13, 7:00 PM Teatro Eugene O'Neill/CCCN in San José, Costa Rica
Sunday May 14, 5:00 PM Teatro Eugene O'Neill/CCCN in San José, Costa Rica
Monday May 15, 8:00 PM The Jazz Café in San José, Costa Rica
Friday May 26, 7:00 PM & 9:00 PM The Century Room in Tucson, AZ
Saturday May 27, 7:00 PM only The Century Room in Tucson, AZ
    PARA COMPRAR ENTRADAS A NUESTRO CONCIERTO EN EL NICO BAKER EL VIERNES 12 DE MAYO EN COSTA RICA:                                                  
INTERVIEW IN THE SEMANARIO UNIVERSIDAD (2/2/23), IN PREPARATION FOR OUR UPCOMING COSTA RICAN TOUR THIS MAY. CLICK ON IMAGE TO READ FULL INTERVIEW.
FAREWELL CALIFORNIA PERFORMANCES!
IMAGES BY HAL MASONBERG OF OUR PERFORMANCE AT MR. MUSIC HEAD GALLERY IN LOS ANGELES, CA ON MARCH 30TH, AS PART OF THE "JUST JAZZ" CONCERT SERIES!! (Click on images)